KEG Exchange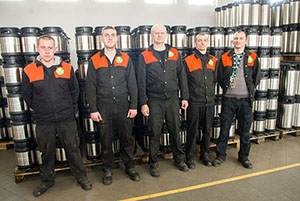 Keg Exchange is a global company dealing with kegs and fittings. We are a member of 'Global Network Keg Service', a group which guarantees a high standard of customer service and good quality of wares.
Our offer includes many services, such as:
- Keg service (reconditioning, application of logos or color rings etc.)
- Fitting service (reconditioning, general technical overhaul)
- Volume reduction (from 50l to 30l or 20l)
- Keg trade (we sell both used and new kegs and buy used kegs)
- Fitting trade
- Spare parts trade
Our company is constantly developing. We are doing our best to adjust to our customers' needs. It is possible to rent our kegs as well as store them on our premises in Poland (we can store up to 500 000 kegs).
Do not hesitate to visit our website www.keg-exchange.com as often as you desire.